How can you optimize the onboarding of SaaS subscribers, to reduce churn and increase recurring revenue?
Today, Software as a Service is one of the fastest growing areas of the subscription world, with thousands of start-ups building and promoting tools that supposedly will enhance your life.
But for SaaS today, new subscriber acquisition has never been tougher. It's really expensive to acquire new subscribers.
And that means, KEEPING those subscribers is more important than ever.
While the examples are SaaS-related, the strategies are great for any subscription business to lower churn and increase retention.
This episode of Be Unleavable® Subscription Growth reveals the onboarding process for keeping more new subscribers.
⚙ Tools I'm using: 
During coaching and consulting sessions I get a lot of compliments about my web camera. My camera is the Lumina.
I have enjoyed the Lumina camera for several reasons.
Always perfect lighting. As I sit next to an east-facing window, my office is bright in the morning and not as bring in the afternoon. With the Lumina, the lighting is always perfect as it adjusts to the conditions in the room.
Zooms in on my face to make it larger on the screen, versus having such a wide field of view.
It follows me as I move to keep me centered on the screen.
The camera gives my background a blur to add depth of field for a more high-end experience.
My calls seem to flow better as the customizations within the camera software take some of the "load" off Zoom to add blurred backgrounds or other features.
Check it out if you are interested in a high-end camera for your Zoom calls.
📆 Where I've been: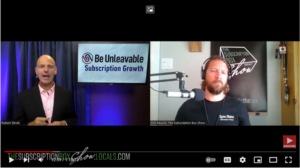 You may enjoy this interview by Eric Musick, host of The Subscription Box Show. The podcast version is available here.
Eric and I took apart several advanced ideas with my book, Retention Point. We were broadcasting live to Eric's supporters so it was fun having the opportunity to interact with them. Plus, there were some great questions.
It's really helpful for anyone growing a subscription business.
👀Watch Be Unleavable Subscription Growth here.